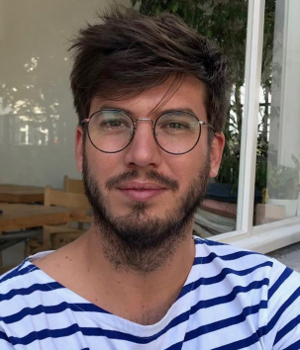 Richard Schouten is from the Netherlands and works as a pedagogue/ sport & movement therapist. He graduated from the Faculty of Physical Education and specialised in Mensendieck Oefentherapie – a science close to Physiotherapy whose main focus is on changing body posture and changing behaviour through a holistic approach. Over time he focused on working with children and did two internships where he worked and developed his own approach with children aged from 0 to 18 years. His work within Kindercampus King (Amsterdam) focuses on physical education (as a teacher for primary school), assisting and providing support to children with delayed motor development, but Richard also collaborates with after schools where he supports therapeutic groups for 4-7 years and 8-12 years. Among the last courses of continuous specialisation, for half a year he learned about "eyes for interaction". There he developed several approaches regarding the interaction with children through play and other approaches through which children can express verbally and non-verbally and how they can be translated into a healthy learning language. Among his passions is baseball (he has been playing for 23 years), personal development – where hediscovered meditation, participating in different classes of mindfulness, nature, sailing the boat and reading.
Currently, Richard has moved to Romania and founded Physical Aware – a recreational and sports centre.
Alina and Richard work together with therapeutic groups of children in Ploiesti, but also with parents and teachers supporting them in parenting consciously and development of growth mindset.
---
---