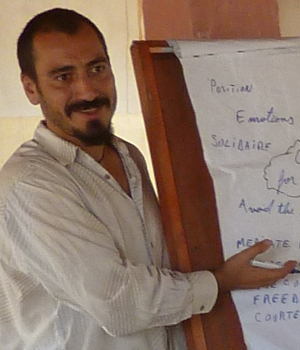 Mihail Iordache is a psychotherapist in Transactional Analysis, in body psychotherapy and dance and movement psychotherapy. He is certified as an international trainer in non-formal education, anti-discrimination and alternative learning techniques.
In the communities where he worked, he sometimes encountered mourning, loss, conflict and recovery processes. He is interested in the dynamics of these processes in the context of the cultural script and in the possibility of addressing the difficulties of the community using its own resources.
He has given courses, conferences and workshops in Europe (Germany, Spain, Hungary, Belgium, Estonia, Lithuania, Scotland, Italy, Serbia, Albania, Ireland), Asia (Nepal, India, Pakistan, Turkey, Thailand, Myanmar), South America (Suriname), Middle East (Jordan) and Africa (Rwanda, Burundi, DR Congo, Botswana, Tanzania, South Africa).
Mihail also uses elements of social theater, participatory education, yoga and mindfulness when working with groups.
---
---